Even though the only game that matters is in Stillwater, I guess I'll still do my conference picks. I've got to tell you, this is hard work following both football and basketball at the same time. I guess I have not conditioned myself appropriately, and it is taking some time to get used to all of this expended energy. I'm hoping by late November/early December when the basketball season really amps upthat I will be better equipped to handle this rigorous schedule.

Colorado (-5) @ Iowa State
I'm probably selling Ron prince short, as he is a tremendous slouch, but Iowa State has been playing better as of late and finally got over the hump last week. With the exception of Lubbock, Colorado has been pretty poor outside of Boulder and even looked worse than ever last week in Boulder.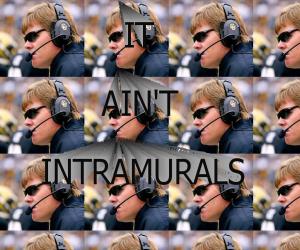 The long and short of it is, maybe Dan Hawkins will bring back Colorado eventually, but I think they are going to be a Jekyll & Hyde for at least the next few years.
How ISU wins:
Continue to stop the run. As Kansas proved, if you can stop Colorado from running the ball, they won't put many points on the board. This is exactly what ISU does best. If C-Hawk is their only hope this week, I like Cy.
How CU wins:
Hold onto the ball. Iowa State has scored on KSU and Missouri, but what does that really mean? If CU holds onto the ball and wears down their defense a bit, some running lanes should open up.
The defenses are pretty much even in this one, with a slight edge going to Colorado. And Colorado definitely has the better offense. So, without further ado, I'll take Iowa State to enter Lawrence on a two game winning streak.
ISU 20 CU 16Kansas St. (-7.5) @ Nebraska
Did you know these teams were rivals?
(Scroll down half the page) Me neither. Early on this year, this along with NU's game in Columbia were pegged as battles for the north. Turns out, it hasn't quite gone to script. Unfortunate. After last week's drubbing of the hapless Huskers, you'd think this would be an easier pick. Only problem is the Purple managed to become the first team outside of Iowa to lose to Cy. Yes, the same Cy that couldn't get by Kent St., Northern Iowa or Nebraska.
How NU wins:
Take care of the ball. When Ganz was throwing to the team in white last week he looked pretty good. Almost always had a good ball, generally made the right reads and took off when he had to. Long story short, he is a much better fit for the west coast offense than Keller. However, he did throw four picks and that can't happen against the Wildcats. They live off turnovers and if Nebraska is feeding them, it could be an ugly Senior Day.
How KSU wins:
Mix it up. When Al Saunders coordinated the Chiefs, he didn't always have the right play call but he ALWAYS kept you guessing and to no surprise, the Chiefs dominated offensively. For some reason Ron Prince thinks the only way to move the ball is by letting Freeman air it out.
Given that he has thrown 10 picks and only 12 TDs, your guess is as good as mine as to why. Jordy Nelson has become a great receiver and he should be utilized, but since Nebraska will already respect this aspect of your game plan, try moving it on the ground every once in a while.
Given Nebraska's dead fish state right now, there is truly no reason why Kansas State should not win this game handily. If Jordy Nelson watched last week's tape and hasn't been having wet dreams all week, I don't know what's wrong with him. Don't forget your Power Towel! You know, to clean up. What Snyder lovers need to hope for though is that they watched other film as well and saw how ridiculously bad Nebraska's run defense is also. Even if they did, I think Ron gets Power of One vision.
Nebraska 41 KSU 35Texas A&M @ Missouri (-18.5)
I guess I'm supposed to root for Missouri so that when Kansas beats them it will look all that much better. But let's be honest, is beating Gary Pinkel ever going to look that good? Well, this might be the year it does as most people, up to and including the Missouri players seem to have forgotten he is on the sidelines. Last week's beat down of Colorado is in one word: impressive. As you may recall from my picks last week, I had the Buffs edging the Tigers by a point. I wasn't convinced at the time, but since I thought they would cover, I decided to go all out. And after Booger's first pass of the game was picked off, I felt pretty good about things. Needless to say, those feelings did not last.
How A&M wins:
Jorvorskie Lane. I have no idea why Fran continues to ignore the fact that he has a quick, agile 270 pound running back who last year ran for about 130 on Missouri in leading A&M to a win. A&M has won every single game he has carried it 20 times! Obviously that stat has to be taken with a grain of salt as they have fallen behind early, etc. negating the power rushing. But I refuse to believe Missouri is great against the run. I'm not sold on their pass defense either but they can usually get some pressure which can be a great mask for a pedestrian coverage unit. So please, Fran…let Jorvorskie pound it up their asses. If you want to let McGee and Goodson run the option that would be just fine too, but if you again forget that you have Jorvorskie, you should be fired. Oh wait.
How MU wins:
Same old, same old. Yes they need to stop the run, but just because Texas A&M runs it every down doesn't mean they are that good at it. In Columbia, Chase Daniel should have no trouble moving the chains against this defense. If he does and they take care of the ball (also shouldn't be a problem as A&M does not force turnovers), Fran will surely abandon ship and this one will be over early.
For a while this week, I was a bit delusional and thought A&M had a chance this week. Then I reminded myself that I thought the same thing last week thinking Colorado could run on Missouri. I have to think A&M will do a bit better job of this and it won't get quite as ugly, but Fran cancels out the Pinkel factor and Missouri has the better players.
Methzouri 38 A&M 20Texas Tech @ Texas (-6.5)
First off, let's stop with all the "Texas is back" crap. If this is the case and Kansas wins in Stillwater, they should just be catapulted to the National Championship game. Two straight weeks Texas has been completely bailed out by incompetent opposing coaches. I didn't watch the 4th quarter of the Nebraska game but even if Callahan didn't screw up then, he still put a team together that can't stop Adrian Peterson and 10 6th grade girls. And as I discussed in the week recap, Mike Gundy GAVE them this last one. That was play calling and clock management at its worst. I mean, they surrendered a 21 point lead with 11 minutes left without turning the ball over. Not to mention they have a ground game that produces a shade below 250 yards per game. Here's to hoping if Kansas is in a similar situation that he has not learned his lesson.
How Tech wins:
Force a shoot-out. Since that's all they want to do anyway, I don't know why I would bother recommending anything else. Texas' back 7 are no better than average and can be exploited with a solid aerial attack. This ought to make Mike Leach feel like he's loose in the Caribbean.
If they can protect Harrell and let get any of their receivers matched up on the Texas linebackers, scoring will not be an issue. Since the only halfway decent defensive performance (and it isn't even close) was holding A&M to 7 points, stopping the Longhorns is another issue.
How UT wins:
Control the clock. Charles has been fantastic in the last 2…fourth quarters. I'm relatively confused why they don't try and get him outside a few times in the first 3 quarters – and they would be especially wise to this week – but he has again shown the skill set we saw during their NC run. I'm under the thought that Tech and OSU have similar defenses (48-45) and since Texas ran for over 300 yards on Okie St., you would think they might try and do that this week also, especially because it keeps Harrell off the field. Hell, hold the ball long enough and Mike Leach might just start letting you score so he can play offense.
This is another one that all week I have thought Tech could pull out. But as I'm writing this I'm convincing myself otherwise. I have watched Texas enough to know that there is no excuse for Tech to not put up 35 this week. And yet, I have no idea whether or not they will actually do it. Even more frustrating, I don't have a clue what Texas will score either. Again, there is no excuse why they shouldn't put up 35 on this Tech defense, but with Greg Davis and Mack Brown can you really be sure? Since it's in Austin, I'll go with Bevo.
UT 38 Tech 31Baylor @ Oklahoma (-38)
I think the line says plenty.
OU 58 BU 6Louisiana Monroe @ Kansas (-27)
Don't trick yourself into thinking this is another Fort Hays State. Orlando Early led the Warhawks to a Sun Belt West division title last year. Ok, that doesn't mean much but they have five starters back from a team that was good enough to win half their conference so they aren't terrible either. KU has an interesting knack for scheduling good bad teams. I'm not sure if there is any logic behind it, but they also seem to have their non-conference loaded with the best teams from conferences most people have not heard of. Last year it was Northern Arizona Oral Roberts, etc.. The year before it was Pepperdine, St. Josephs and Nevada. And even before that they had the Catamounts of Vermont. This year they have LA Monroe, N. Arizona again, Ohio, and Miami (OH). Kind of like how I want to be in the room when someone proposes the "Cavemen" TV show idea, I want to be around for a few scheduling meetings. Do they really just scan the nation and say "Jim, let's see if we can't get Loyola, out of Maryland" – "Great idea, I'm on it."
Wow, that went on for a while. Ironically, I don't even have a problem with this year's schedule. Though I wish there were some better home games. Arizona and the Purple are about it. As for this game, I'll be disappointed if the big men don't dominate. I'd love for Arthur to put up another 20 and for Kaun to grab 10 rebounds. I don't think I'd bet much on the latter, but it would be great to see.
Kansas 92 ULM 62