On account of
so
many integral people from the Kansas basketball program congregating in Lawrence this weekend as part of the 110 Years of Kansas Basketball celebration and to honor the 20 year anniversary of the 1988 National Champions, I did a little research. Out of curiosity, I went back to 1988 to check out Kansas' respective seeding. Here's what I found…
'88 – 6 : '89 – NA : '90 – 2 : '91 – 3 : '92 – 1 : '93 – 2 : '94 – 4 : '95 – 1 : '96 – 2 : '97 – 1 : '98 – 1 : '99 – 6 : '00 – 8 : '01 – 4 : '02 – 1 : '03 – 2 : '04 – 4 : '05 – 3 : '06 – 4 : '07 – 1
Broken down by seed that adds up to…
#1 seed – 7 times (2 Final Fours)
#2 seed – 4 times (2 Final Fours)
#3 seed – 3 times (1 Final Four)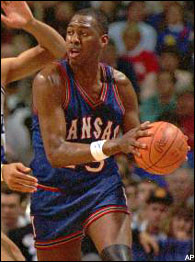 #4 seed – 4 times
#5 seed – 2 times
#6 seed – 2 times (1 Final Four, NC)
#8 seed – 1 time
Not invited – 1 time
As familiar as you are with the team and as much as you always appreciate the success, argue superiority, etc. it really resonates when you see it broken down as such. Factor in that only one team in the nation has a longer current inclusion streak (KU = 19 (soon to be 20), UofA = 23 (likely to be 24), only one team has more #1 seeds over that time (Duke) and only two (Duke, UNC) have more final four appearances; you've got yourself some damn good consistency. Oh, and it's only 30 days until Selection Sunday.
Once I saw this I got a little curious to see how it stacked up against the other perennial programs around the country over the last 20 years. I don't have the time or energy for appearances, but just know that UofA would have 20, KU would have 19 and everyone else would have less.
The format will be: Kansas (#1 seeds = 7: Final Fours = 6: National Champions = 1)
- Duke (#1 = 9 : FF = 9 : NC = 3)
- UNC (#1 = 6 : FF = 7 : NC = 2)
- UCLA (#1 = 2 : FF = 3 : NC = 1)
- UK (#1 = 6 : FF = 4 : NC = 2)
- UA (#1 = 5 : FF = 4 : NC = 1)
- IU (#1 = 1 : FF = 2 :NC = 0)
- UCONN (#1 = 4 :FF = 2 : NC = 2)
And just for fun…
- Methzou (#1 = 1 : FF = 0 : NC 0)
- KSU (#1 = 0 : FF = 0 : NC = 0)
Obviously Kansas stacks up quite nicely, but how much better would it looks if their line read, "8:7:2" as of April 7th? But we can't really get too hung up on that just yet. So instead I'll just attempt to do this week's version of my Top Sixteen. Let me preface this by saying that I think this week is the toughest yet, or at least the hardest to justify, since my top two both lost in the last 5 days.
1. UCLA (21-3)
I really can't defend it at this point, but the more I watch of the other elite teams, the more I think UCLA and Kansas are the two best; and right now I think UCLA would beat KU. I must note, though, that I think KU could easily get Love in foul trouble and without him they are a far cry from their ceiling.
Up next: Sunday @ USC
(w/o Daniel Hackett)
2. Kansas (23-2)
Perhaps I'm just being stubborn keeping these two at the top, but when you break it down, they seem like the two most balanced and reliable. They're easily two of the best defenses, both can score from the post or the perimeter, and to top it off they've got some veterans.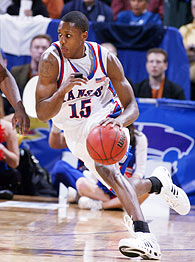 How could I possibly trust Memphis (sans shooters), Duke (sans an inside game), UNC (sans a defense), or Tennessee (sans a conscience and with ADD) any more than these two? Even if you can, I can't, and so in my infinite wisdom, I'm sticking with that theory until it's proven wrong.
Up next: Saturday v. Colorado
3. Memphis (24-0)
Undefeated or not, this team simply isn't championship material. And I would have Duke rated above them, except that I think Dorsey might get about 25 rebounds in that game (a la DeJuan Blair) and I think Memphis plays good enough perimeter defense to limit Duke's penetration/kick-outs. But the fact of the matter is, I just don't trust a team that in February trails Houston and UTEP at home, not to mention one shooting 58% at the charity stripe.
Up next: Saturday @ UAB
(their second toughest conference game – WOW)
4. Duke (22-1)
In all honesty, there's really no reason this team shouldn't be ranked # 1 based on what has transpired on the court. And that might not change for a while. But if you watch them play, there's no way to assume that they could handle a team that plays defense and has an inside presence – you know, kind of like Pittsburgh.
Up next: Saturday @ Wake Forest
5. North Carolina (23-2)
It's hard to take anything this team has done lately seriously, because the difference in Ty Lawson and Quentin Thomas is just enormous. And despite that absence, there's almost no chance of them entering the tourney with more than 5 losses (@ NC St., @ Duke, ACC tourney) and a good chance they'll have less. Could be a dangerous 2 seed as winning all these 1 point games can only be a good thing in the long run. (NOTE: Interesting stats...Tyler Hansbrough has been called for 57 fouls this year (2.28/gm.), has never fouled out and has only had 4 twice. However, he has shot 257 free throws, meaning that even if all but one was a a two-shot foul, he has been fouled 129 times. Sunday v. Clemson, he played 47 minutes, was called for 3 fouls and took 19 foul shots. WOWZERS!)
Up next: Saturday v. Va Tech
6. Texas (20-4)
Maybe I'm putting them too high because of what they did against the Jayhawks, but it's undeniable that when their other players contribute, they're tough to beat. And the proof is in the pudding as they've beat UCLA (road), Tennessee (neutral) and Kansas (home). No other team in the nation can come close to matching them in marquee wins. Now if only they could avoid blowouts @ Methzou and A&M.
Up next: Saturday @ Baylor
(must win for the Bears, need to avoid a letdown)
7. Tennessee (22-2)
Now here's a team I absolutely don't trust. It's hard to tell since it's all based on match-ups, but this is likely a team I'll be picking to be upset on the first weekend and no later than the sweet 16. With that said, and as bad as LSU is (lost by 20 to Wichita State), that win showed me something because I didn't think they could win a game like that. (Note: They didn't actually win it as much as LSU lost it though – shot clock off and have the ball in a tie game, there's no excuse for at the very worst going to OT. Truly a pathetic display.)
Up next: Saturday @ Georgia
8. Stanford (20-4)
As sad as it sounds, I'm really trusting the "experts" at the WWL on this one as I'm not terribly familiar with the Cardinal, particularly their guards. I've seen them play, and both Goods and Hill look pretty solid, but more than anything I think they're a tough match-up with the Lopez twins. Then again, they did just lose to Arizona State – who, as we mentioned yesterday, was embarrassed by a Nebraska team that can't even tread water in the Big 12. They'll get their chance though as they still have roadies @ Arizona, USC and UCLA.
Up next: Saturday @ Arizona
9. Connecticut (19-5)
The home loss to Providence was AWFUL and I'm not totally sold on the Big East as a whole, but 8 wins in a row at this time of year is pretty solid. (Note: BY FAR their toughest remaining game is @ 'Nova) When you factor in that they've got a semi-veteran point guard that looks great and steals laptops and as good a defensive big man as there is, they make for a damn tough game.
Up next: Saturday @ South Florida
10. Georgetown (20-3)
Sometimes in the tournament it's better to be lucky than good. And Georgetown is certainly that. They play good defense and Hibbert should control most games – though he isn't at 13 and 7 – but they just don't look good on offense and despite all of their close wins, they look especially bad late in games. Check out
this hilarious call
from their radio announcer the other night. And here I thought only purple wildcats were this delusional.
Up next: Saturday @ Syracuse
11. Purdue (20-5)
I can't believe I'm doing this, but as horrible as the Big 10 is, winning in the Kohl Center is always tough. That's where they sold me. There are plenty of teams below them that would scare me a lot more, but they kind of seem like a lighter version of Kansas a couple years ago, when the Hawks were screwed with a 4 seed.
Up next: Saturday @ Northwestern
12. Texas A&M (20-4)
They still haven't won in a tough road environment, but with their size and ability to hit the three, this team can beat anyone. With four tough ones remaining, we should know plenty by the time the tourney rolls around.
Up next: Saturday v. OSU
13. Louisville (19-6)
Pitino is obviously one of the best and when he can convince his team to play smart, they've got a lot of potential. It's funny to hear about David Padgett as such a leader now, you know, considering how big of a mooseknuckle he was just a few years ago.
Good for him, though.
Up next: Saturday @ Providence
14. Xavier (21-4)
Part of me wonders if I'm under-rating these guys, but the other half reminds me that the A-10 as a whole is ridiculously overrated. Still, 9-1 in a league with that many (at least somewhat) legitimate teams is no easy feat. Seem a little too small though to do any major damage.
Up next: Monday @ Rhode Island
15. Wisconsin (20-4)
How can you not appreciate Bo Ryan? Talk about a guy that figures out what he has and gets the absolute most out of them. Not to mention his stunning similarity to Bucky the Badger! Part of me can't forget their embarrassment in Cameron earlier this year, but the other half remembers that it happened in November. Take that for what you will, but KSU was losing to George mason around the same time.
Up next: Saturday v. Minnesota
16. KSU (17-6)
They get the nod over Butler because of their wins over Kansas and A&M, whereas Butler's best win came over Texas Tech in Alaska – and we all know how worthless they are outside of Lubbock. Like Tennessee, though, they seem like a probable pick to be upset early on, especially if they land in the dreaded 5 spot for the 5/12 game and Frank Martin's head explodes. Somebody get that guy a joint.
Up next: Saturday v. MethzouJust missing out:
Butler, Arizona (they need Nic wise), USC (need Hackett), Washington St. (need Low to make shots again), Pitt (need LeVance Fields), & St. Mary's