Since everyone has released their token All-conference teams, awards, etc, this seems an opportune time to release the official IBT awards (though the opinions of either GingerBalls or RoboBoogie were not considered). We'll tackle all six major conferences, going a bit more in depth with the Big 12 for obvious reasons, but will be holding off on the national awards until we see how they perform on a national scale. I know it doesn't make any sense that way, but what the hell.
(Note: Teams are selected on the basis of being able to legitimately put those five on the floor together, as opposed to simply selecting the 5 best players. Unfortunately, it didn't always work out.)
ACC –
I haven't been all that impressed with the ACC over the year – now I'm really not, especially on the interior. I honestly couldn't find a second forward to put on the team. Who was next? James Gist? Kyle Singler? So alas, we have four guards here.
5 - Tyler Hansbrough – UNC (POTY)
4 - DeMarcus Nelson - Duke
3 - Jack McClinton - Miami
2 - Sean Singletary – UVA
1 - Tyrese Rice – Boston College
Honorable mention:
Danny Green (UNC), Wayne Ellington (UNC), Toney Douglas (FSU), K.C Rivers (Clemson), Kyle Singler (Duke)

Big 10
– I guess this is what you get when your conference boasts 4 solid teams, 1 decent one and 6 awful squads.
5 - DJ White – Indiana (POTY)
4 - Brian Butch - Wisconsin
3 - Robbie Hummel – Purdue
2 – Eric Gordon – Indiana
1 – Michael Flowers - Wisconsin

Honorable Mention:
E'Twaun Moore (Purdue), Jamar Butler (aOSU), Drew Neitzel (MSU), Manny Harris (Michigan)
Big East
– This league does some weird shit where they have like 10 or 11 players per team, but that doesn't fly here. Leaving Georgetown out seems crazy, but there just wasn't room.
5 – David Padgett - Louisville - I can't believe I wrote that…
4 – Luke Harangody - ND (POTY) - I can't believe I wrote that…
3 – Terrence Williams - Lousiville
2 – Dominic James - Marquette
1 – AJ Price - Connecticut
Honorable Mention:
Roy Hibbert (G-Town), Jonathan Wallace (G-Town), Sam Young (Pitt), Kyle McAlarney (ND)
SEC
– Again, why is there NO inside presence here? But my only options were Patterson (missed 3 and they looked fine without him), Ogilvy (No), and Hendrix (possibly, but I just couldn't). And Lofton may or may not fully deserve it with his production, but you can't discount what he means as far as how the other team prepares and ultimately defends the Vols. But man is this a small team – think Villanova '06, but smaller and won't play much defense.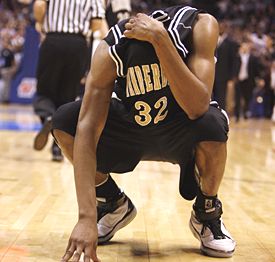 5 - Tyler Smith – Tennessee
4 - Jamont Gordon - MSU
3 - Shan Foster – Vandy (POTY)
2- Chris Lofton - Tennessee
1 – Ramel Bradley - Kentucky
Honorable Mention:
Devan Downey (SC), Sonny Weems (Ark.), Richard Hendrix ('Bama), Nick Calathes (Florida), Patrick Patterson (UK)
Pac 10
– I didn't buy into the hype surrounding Love, but the guy really does do everything and though they'd still be good, the Bruins wouldn't be anywhere near where they are without him. With the way he's playing lately I hate leaving Mayo off, but the guy you're seeing now didn't really show up until February.
5 – Kevin Love – UCLA (POTY)
4 – Brook Lopez – Stanford
3 – Ryan Anderson – Cal
2 – Jerryd Bayless – Arizona – Don't think too many figured he'd be the frosh guard on this team
1 – Darren Collison – UCLA – Watch them when he plays well…and when he doesn't
Honorable Mention:
USC (OJ Mayo), Jon Brockman (Wash), Kyle Weaver (Wazzu), Russell Westbrook (UCLA)
Big 12
– Of course it's partly due to my bias and knowledge of this league, but there really are some players in the heartland. Consider that I made up three teams and couldn't find room for Richard Roby or Sherron Collins, two players that are sure to be in the league in the not so distant future.
First Team
5 – Michael Beasley – KSU (POTY)
– I don't think I really need to justify this one, though the Austin American Statesman (showing absolutely no bias) did give their award to DJ Augustin and his love for Sponge Bob is reaching a highly questionable level.
4 - Blake Griffin – Oklahoma –
This was my toughest decision, because if you're going straight stats, Maric maybe was a bit better. And if you're going, "help the team", Arthur, Jackson, James and Atchley deserve some merit. Unfortunately, those four are on two teams and cannibalized themselves with me, because I couldn't decide who was more valuable. So griffin gets it, by default.
3 - Curtis Jerrels – Baylor
– Hated to see him miss those free throws in Norman, but he is unquestionably the team's leader. The thing to remember about Baylor – good guards can get you to the Sweet 16 and they've got a ton of them.
2 – Mario Chalmers – Kansas
– He doesn't have the stats of the others on this team, but he does a little bit of everything for the Jayhawks and when he's playing with a swagger, they're awfully tough to beat.
1 – DJ Augustin – Texas –
He hit a lull early in the conference season and was shooting the 'Horns out of some games, but aside from that, the guy was fantastic and most years could have been POTY.
Second Team
5 – Darrell Arthur – KU
4 – Darnell Jackson – KU
3 – Damion James – Texas
2 – Brandon Rush – KU
1 – Byron Eaton - OSU
Doesn't this five look better than the first team in most of these leagues? SEC for sure. And arguments could be made for a couple others that aren't the Pac 10.
Third Team
5 – Aleks Maric – Nebraska
4 – Connor Atchley – Texas
3 – Bill Walker - KSU
2 – AJ Abrams - Texas
1 – Justin Mason - Texas
Your thoughts?