Note: I have also submitted this ballot to
Mizzourah
as they are compiling a vote from blogs around the conference. I will be sure to report the results once they are made available to me.
1.Darren McFadden, Arkansas.
Why:
By default. I know how that sounds and I don't like it any more than you, but there isn't anyone who had a truly "Heisman" season. His season on the whole was extremely spectacular, though at times unimpressive. With a Cotton Bowl date with Methzou looming, he sits at 1725 yards (5.7 per) and 15 TD on the ground. Through the air he has caught 21 balls for 164 yards and a score and completed 6 passes for 4 touchdowns.
What pushes him over the top is how he played when the spotlight was on, specifically in running for 206 yards and throwing a touchdown in the win in Baton Rouge. That SEC record 321 yards against South Carolina didn't hurt either. Also, his hoopty is pretty sweet.
Why not:
An October lull. 43 yards against Auburn was obviously a poor showing. The game that bothers me the most though is the one against Florida International in which he was obviously hurt, yet posturing for this award. He rushed for an inexplicable 61 yards, which I wouldn't hold against him if he were resting since they won 58-10. But in "resting" he was still on the field enough to score 4 touchdowns.
2. Tim Tebow, Florida
Why:
He has 51 touchdowns with the Michigan "defense" waiting. In compiling those 51 scores, he has thrown for 29 and run for 22, becoming the first 20/20 man and also breaking the SEC single season rushing TD record.
Along those same lines, he has thrown for over 3,100 yards with a 68% completion rate and only 6 interceptions. Despite having 4 and 5 star recruits everywhere, along with Percy Harvin (minus 2 games) he was pretty much a one man show. Plus, he fucks girls with beach ball boobies.
Why Not:
He is the quarterback of a team that lost 3 games. McFadden (4 losses) gets a pass here because he is playing with much less surrounding talent, had Houston Nutt instead of Urban Meyer (at least a 2 game difference), and is a running back. Ultimately, a quarterback has to be judged on wins and losses. Running backs should not be held to the same standard. Furthermore, in their 3 losses he was merely average with the standout stat being his -15 yards rushing against Georgia. In those games his total offense was 276 (AU), 225 (LSU), and 221 (UGA) yards respectively. I need more in the big ones from my Heisman winner.
3. Chase Daniel, Methzouri Why:
Quite simply, he took a team notorious for under-achieving, which started the season unranked all the way to #1 in the nation, albeit a brief stay. More specifically, Methzou has gone 11-2, with both losses coming to an Oklahoma team that apparently has motivational issues. And in doing so, he has completed passes at a 70% rate for 4,170 yards and 33 touchdowns while only having 10 interceptions. Until the Big 12 championship he had thrown at least one TD in every game, with his biggest outburst being the 5 he threw in humiliating Colorado. After patiently dissecting the Kansas defense to the tune of 40/49 for 361 and 4, this was his award to lose.
Why Not:
He lost it the next time out. In the biggest game of his career, he looked average at best.
Some may blame Pinkel or Christensen for the atrocious play calling, especially in the red zone, but in that offense, he doesn't always (and usually doesn't) have to go to option 1. And for some reason, they kept thinking they should try and throw horizontal passes against an OU team that was decidedly faster than them. Not surprisingly, it didn't work. He ended up completing 59% (2nd worst) for 201 yards, 0 TDs and 1 INT. Furthermore, he eats boogers.
4. Pat White, West VirginiaWhy:
I'm not sure. Or at least, I'm not entirely convinced. The long and short of it is, he led a dynamic offense and has thrown for over 1500 yards and run for almost 1200.
And apparently, this team is nothing without him (see: Why not), even though they have Steve Slaton, Noel Devin, Darius Reynaud and Owen Schmidt. In the four games preceding the Backyard Brawl, he ran for 156, 147, 155, & 186 yards respectively to get his team squared away for a shot at the national title. And well, who can argue with
this
.
Why Not:
In the two biggest games of the year he disappeared, literally. He actually left the field and went into the locker room. Whether or not you want to hold it against him, he was hurt against South Florida and Pittsburgh, and his team lost both games. Some might say this proves his value, and I wouldn't argue with that assessment. But in the latter of the two, his team was within spitting distance of the national title game and all they had to do was beat a 4-7 Wannstache coached team. I guess I admire him for coming back in, but it was a dislocated thumb. I'm not going to accuse him of being fed chicken by his mom, but I like to think most players that close to a national championship would play through that one.
5. Todd Reesing, KansasWhy:
Kansas is 11-1 and set to play in the Orange Bowl. That should tell you all you need to know, but here's a bit more for good measure.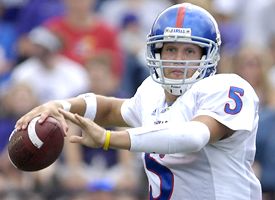 He has completed 63% of his passes for almost 3300 yards, 33 touchdowns and 6 interceptions. Along the way he went 6+ games without a turnover and had his signature game against Nebraska throwing for 354 yards and 6 touchdowns leading 10 consecutive TD drives. But more than anything, it was the intangibles he brought to the table. Without a doubt, the confidence he exuded to the other Kansas players is the biggest reason this team is where they are. Also,
he hates reality shows and has a sense of humor with the media
.
Why Not:
November 24. He finished with 354 yards, 2 touchdowns (and 1 rushing) and 2 interceptions. By itself, that would be fine. But combine that with the national scale of the game, the timing of those picks and of course the fact that his team lost; and he can't win this award.
Apologies to:Kevin Smith, UCF
I would love to put this guy in and if he breaks Barry Sanders' single season rushing record, I may regret not. For the record, he needs 181 yards to do so and I assume he will get that. With a simple look at the stats, it's hard to deny this guy: 2448 yards (5.9 per) for 29 touchdowns. He was an absolute beast in all but the South Florida game in which he only amassed 55 yards on 18 carries. However, his only other game against a real team was against Texas (149 yards) and considering the Longhorns shoddy 'D', I can't put him up there.
Colt Brennan, Hawai'i
Some may say I'm being hypocritical here for punishing Tim Tebow for losing 3 games, but not rewarding a quarterback who won all of his. And I guess in one sense, you're right. But I feel like you have to take it all with a grain of salt, especially since his backup led them to their toughest win of the year: at Nevada. That's right, in place of Brennan, Tyler Graunke threw for 358 yards and 2 touchdowns in keeping the Rainbows undefeated. And if you want to counter with stats (Colt = 71%, 4174 yards, 38 TD, 14 INT), I will direct you to Graham Harrell (73%, 5298 yards, 45 TD, 14 INT) who played against better competition and will not be getting too many votes.
Dennis Dixon, Oregon
Sorry about that knee. For obvious reasons, we apparently should have been referring to your team as the Oregon Dixons.