Has anyone else felt like this was the longest possible four day week? Tomorrow just can't come soon enough. Which is exactly why instead of working, I'm blogging. For you. Or me, but that's beside the point. The fact remains that tomorrow is set to be a beautiful day at Memorial and I think fans are going to leave this game a little happier than they left the last one. Here's why:
When Kansas has the ball...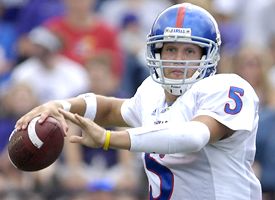 Per Jimmy Watson, La Tech's defense is a relative strength. And from looking into their game v. MSU that would seem to be the case. With that said, they don't exactly appear to be the Steel Curtain either. Despite the QB ineptitude of MSU, they still passed for 243 yards with over a 50% completion rate. And despite only allowing 79 team rushing yards, MSU's starting tailback ran for 80 on 16 carries, a solid 5 per pop. So how did they allow a mere 14 points? Remember that QB ineptitude I mentioned – well it announced its presence with authority by throwing 4 picks. Add in a fumble and the La Tech defense forced a salty 5 turnovers.
And sure, turnovers are nothing to scoff at. In fact, it's highly unlikely that Kansas would have gone 12-1 last year without leading the nation in TO margin. Some of them are lucky, some are simply a product of clumsy competition, but a good defense finds a way to force their fair share as well. So it's entirely possible that La Tech simply has a good, ball-hawking defense. It's also possible that they didn't actually force any of these and Wesley Carroll simply doesn't know when or where to throw the football. But more than likely it's a combination of both. Fortunately, for Kansas, Todd does know where and when he should throw the football. And more importantly, he knows how to get it there. Long story short, I don't see this defense enjoying another 5 turnover night.
Assuming I'm right (and let's be honest, when am I not?), I would expect Kansas to establish their running game. As I mentioned, MSU was much more active through the air, despite throwing 4 picks, but when they went to the ground they had some good success. I think it's safe to say that if the Hawks are getting 5+ per run they'll be keeping the ball on the ground. In fact, I think we could be looking at about 250 from the running game tomorrow.
Edge: Kansas
When La Tech has the ball…
Do you remember when I said that La Tech's defense was their strength? And then after that I proceeded to pretty much say that the strength of their defense is forcing turnovers. Well, if one game is any indication, holding onto the ball is about all this offense does well. Granted, I imagine MSU has at least a pretty stout defense. But despite those five TOs and easily winning the TOP, it was not until the 4th quarter that La Tech had a drive exceed 39 yards. To be fair, they did put together a nice 16 play, 57 yard drive for a FG in the 4th though. Their two TD drives combined totaled 7 plays for 22 yards. For all I know those drives could have gone on for days had they not started on the 13 and 9, respectively. But in looking at the rest of their drives, when they actually had to start on their side of the field, I'm willing to bet otherwise.
Throw in the fact that their QB was a paltry 15-41 for 161 yards (no sacks though), they only got 2.5 per on running plays (for 82 total) and as a whole the offense only produced 243 yards and I don't see the scoreboard lighting up tomorrow. Jimmy Watson sees them putting up 21, I'm thinking somewhere closer to single digits. Quite frankly I have no idea what they're going to try to do tomorrow. On the one hand, it would seem that they prefer to pass and have a line more suited to do so. However, unless their defense really can stop Kansas' O, the best way to keep on offense off the field is to run the ball and the clock. Fortunately, I don't see them being able to do either all that well.
Edge: Kansas
When the ball is kicked…
Per Mr. Watson, this is the strength of the team. Yes, I asked which was better; offense or defense, and he said special teams. By far. Again, to be fair, their special teams performance was pretty solid last week. They forced a fumble, were 3/3 on FGs, had a 44 yard punting average (7) and a couple decent returns, while not allowing anything spectacular on kickoffs and next to nothing on punts. But since I don't think any of those numbers blew you off your seat, you can understand my reticence when discussing their defense and especially their offense.
Kansas, on the other hand, had kind of an up and down day in the special teams department. On the shit side of things, they allowed a punt return for TD, missed a PAT and almost beheaded a wealthy gentleman on another. But on the sunny side, they also were 2/2 on FGs, punted very well and returned a punt for a TD. I put Marcus Herford and his relatively poor game in the middle, because they were mostly kicking away from him and I certainly don't expect this to be an issue throughout the year.
As you'll see, I'm going to call this a draw for now. My inclination is that Kansas is better all around but until we see any consistency from the kicking game and stop allowing punt returns for TDs, I'm going to remain hesitant. That being said, they have a couple of pretty good playmakers themselves, so you can't exactly write off their ability to change a game in the positive here either.
Edge: Even
A lot of people are thinking this game is going to be surprisingly close. (If everyone thinks it's going to be surprisingly close, is it really a surprise? Never mind.) I am not one of those people.
For one thing, I really don't see how Louisiana Tech is going to score. Oh sure, they'll probably break off a play or two and put a few points on the board, but I certainly don't see them scoring another 22. And since Kansas has scored less than 22 points exactly twice (19 @ CU and A&M) in the last 14 games, I feel pretty good about their chances of exceeding that number tomorrow. I don't think they even scratched the surface of what they can do last week. And aside from establishing a running game, I would expect them to show a few different sets for Jim Leavitt and Co. to chew on. My thought is something like…
Kansas 38 : Louisiana Tech 10
p.s.
Vote or Die!
Congrats are in order for Dezmon Briscoe for winning KJ-IBT honors for player of the game last week. This seems like a good time to mention that we'll be having a weekly poll and taking inventory of who you, our beloved readers, consider the player of the game. We'll be awarding 5 points for 1st, 4 for 2nd and so on and tally them up at year end, so be sure to cast your ballot.
And lastly, Mangino better be treating Gary Green well (get that man some PT), because his cousin, Aaron, looks to be decent.
428 yards and 9 TDs
. Not bad if you're into that sort of thing.