The conference slate gets a little better this week. In fact, a lot better. There aren't even any FCS opponents on the slate. That's progress, my friends. Now, as long as everyone can avoid shitting the bed (that includes you Aggies), the league just may escape non-conference play without being completely embarrassed (you know, Arkansas State aside).
Game of the Week (I guess)
Virginia Tech @ Nebraska –
I'm calling this one the game of the week, despite being sure that the one in Norman has more on the line and will likely be better played. But since I think this one will be closer, it gets the nod. At first I thought the Huskers would be able to handle the Hokies semi-comfortably. But since they wised up and got Glennon the hell out of the way, now I'm thinking the Bugeaters may not be able to handle Tyrod (mistkae prone as he may be). VT is not their typical self (as ECU proved), but they're plenty capable of turning Ganz over. And since we know Nebraska can't really run the ball, this game figures to stay well below thirty. Advantage: Hokies.
TCU @ OU –
Like I said, this will likely be the best played game of the week. Unfortunately, I just don't see any way TCU can stay with the Sooners in Norman. While I think the Horned Frogs have a pretty solid team and likely a good defense, they just don't have the firepower to keep up with OU on the scoreboard. Things happen, as we saw last night, but this isn't January so I wouldn't expect Bobby S to be soiling himself just yet.
Colorado @ Florida State
– Another very intriguing match-up. If for no other reason that everyone seems to all of a sudden believe in Colorado because they beat West Virginia. Apparently, they didn't remember that WVU was being coached by Bill Stewart and was destroyed by ECU (24-3) just a fortnight prior. Seriously, CU might be good (I'd lean toward decent), but just because Bill Stewart can't manage a clock (let alone a game), their 3rd string QB can't even near a wide open receiver, their kicker can't hit a chippy (23 yards) of a field goal doesn't excuse that CU went 10 straight possessions without a score and only finally managed a FG when they got to start at the 25. Lest we forget they also needed a pick six the game before just to beat Eastern Washington. Excuse me if I'm not on the bandwagon just yet.
With all of that said, Florida State again has one of the worst offenses in the country. How this continues to happen I'll never know. Either way, CU certainly has more than a chance of escaping with a W. But in the end, both of these teams look a lot like they did last year to me and since FSU won that beauty contest (16-6) in Colorado, I'm thinking they'll be ok in Florida this time around.
Arkansas @ Texas –
Unless Bobby Petrino has been saving up for this one, it could get pretty ugly. I'm not even sure the Hogs could beat A&M right now, so Texas seems like a pretty tall task. Let the Colt McCoy Heisman talk continue another week.
University of Louisiana Lafayette @ KSU
– Honestly, I was surprised how bad the purple looked in Louisville. In fact, I even entertained the notion that they could win. But after watching that game, I find it hard to believe that they're 21 point favorites tomorrow. Don't get me wrong, ULL is awful (they lost 51-21 to Southern Miss) but Mike Desormeaux is a decent passer and a good runner. And after watching KSU's tackling "attempts" the other night, I'm not ruling out his ability to give them a hell of a lot of trouble.
Troy @ Oklahoma State –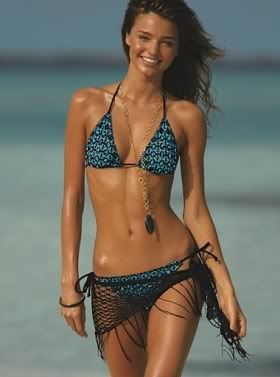 Getting embarrassed by Troy last year may have been the best thing to ever happen to OSU, because it was the final straw in getting Zac Robinson the starting job. Plus, it led to Jenni Carlson's column, which I think one of the OSU coaches may have noticed, and even responded to. Back to this game, I doubt OSU has a ton of trouble winning, but it will be interesting to see how their defense holds up against a (likely) decent offense. I actually think they aren't too bad and will be tough in Stillwater, but I can't even imagine how many Methzou is going to put on them in the ZOU.
Army @ Texas A&M
– Like I've been saying, they better win this one because there aren't a lot more Ws on the schedule.
Sorry for the pretty slow week. Sometimes the job I get paid to do gets in the way. And I'm usually pretty lost when there isn't a game to prepare for, but we intend on being back in full force next week as we ready for conference play. Oh her? That's Miranda Kerr; I didn't think you would mind if she joined us for our Friday discussion. Rock Chalk!