Before I get to this week's power poll, I want to
pass on this piece
about the University of Washington football program (primarily circa 2000) and even more specifically, Jerramy Stevens. To put it frankly, you will be impressed with the journalism, but quite the opposite with Mr. Stevens, Mr. Neuheisel, et al.
Unfortunately, I can't access YouTube at work, but I'll be sure to check and see if our special purple guy has left us another gem in honor of this week's Sunflower Showdown. And if he has, rest assured that it will be posted immediately for all to enjoy.
*EDIT*
We have Part 2
. It seems the poor tike had his feelings hurt after yesterday's embarrassment, so today we get a toned done, "best team will win" speech after some gripping analysis about each team's leaders.
1. Kansas (20-0, 5-0):
No explanation necessary
Last week:
Won v. ISU, Won v. Nebraska
This week:
@ KSU, @ Colorado
Will look to stay unbeaten at one Allen Fieldhouse West and will dominate the fan base in the other.
2. Kansas State (14-4, 4-0):
I'm still not sold they're the second best team, but for now I would have a tough time arguing such.
Last week:
Won @ Colorado, Won v. ISU
This week:
v. Kansas, @ Methzou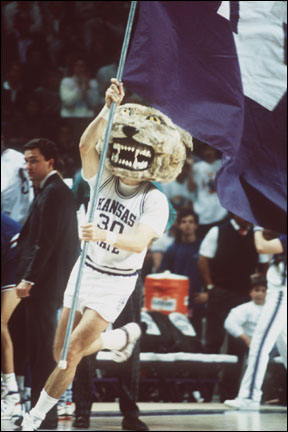 For the Purple, this is what it all comes down to. Some will have you believe that this game means no more than any other to them – why then, is it that anyone significant brought in to aide the struggling basketball program immediately makes mention of how they will end the streak? (Side note: I have been more impressed with Frank Martin this week than any other in his "career.")
3. Texas (16-3, 3-1):
Sure they don't play defense or have an inside game, but they are no worse than 3rd and could be 2nd.
Last week:
Won @ OSU, Won v. Tech
This week:
@ A&M, v. Baylor
Had a good win over Tech after a two suspect ones over CU and OSU. Despite A&M's faltering of late, they will need to be much better on Wednesday. And Saturday for that matter.
4. Baylor (16-3, 4-1):
Hate to see all that goodwill go down the drain. At home, no less.
Last week:
Won @ A&M, Lost v. Oklahoma
This week:
@ Texas
Can gain it all back with a win in Austin
5. Texas A&M (16-4, 2-3):
They haven't earned this spot, but I can't knock them down any further just yet.
Last week:
Lost v. Baylor, Won @ OSU
This week:
v. Texas, v. Oklahoma
This team hasn't done anything since November to justify this and Mark Turgeon's pussified comments don't exactly help things, but if they're going to turn it around, this week would be an ideal starting place.
6. Oklahoma (15-5, 3-2):
Not only in conference, but over the year have done a lot more than A&M. And Baylor for that matter.
Last week:
Won @ Baylor
This week:
Won v. OSU, @ A&M
I'll be interested to see how they fare against A&M, a team that can match their size inside. A&M doesn't have spectacular guard play, but it's good enough that they should beat the Sooners at home. If Johnson and Crocker are up to the task, I'll bump them up a few spots.
From here on out, there has been only 1 collective road win. And that team just lost its best player. Why am I not surprised?
7. Iowa State (12-8, 2-3):
This pains me, but the only logical team to put ahead of them is Methzou – who they beat and who now is without a point guard.
Last week:
Lost @ Kansas, Lost @ KSU
This week:
v. Colorado, @ Nebraska
It sounds weird to say it, but this team really is a point guard away from being dangerous. They wouldn't be good, but they'd have a starting five that could hurt some teams.
8. Methzou (12-8, 2-3):
In one of the most pointless articles ever written,
Gary Parrish says it best
.
Last week:
Lost @ Tech, Won @ Colorado
This week:
v. Nebraska, v. KSU
At least they get a week at the Paige to lick their wounds. Though Hannah may be unable to do his own licking.
9. Texas Tech (11-8, 2-3)
Last week:
Won v. Methzou, Lost @ UT
This week
: v. OSU
10. Oklahoma State (10-10, 1-5):
I can't say it enough; Sean Sutton is the least qualified coach in the nation. And finally
I'm not the only one
saying that Scott is far and away better than his elders.
Last week:
Lost v. UT, Lost v. A&M
This week:
Lost @ OU, @Tech
They may not be the worst, but by playing in the south, they could end up at the bottom of the league.
11. Colorado (9-10, 1-4):
Sold the naming rights to some urinals on campus
.
Last week:
Lost v. KSU, Lost v. Methzou
This week:
@ ISU, v. Kansas
How they blew that game Saturday, I'll never know.
12. Nebraska (11-6, 0-4)
Last week:
Lost @ Kansas
This week:
@ Methzou, ISU
I'm not convinced they're the worst team in the conference. But man, how far away do the wins over (overrated) ASU and Oregon seem?
There's a chance I may get a little pregame posted sometime tomorrow. But for now,
here's a look at what KSU beat writer, Jeff Martin
, of The Wichita Eagle had to say. It's as if he knew who was asking the final question...